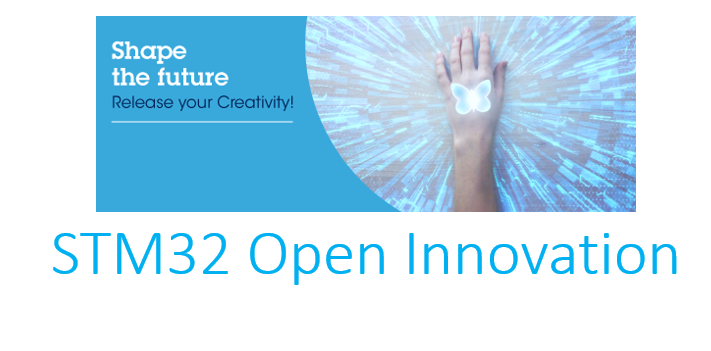 STM32 Open Innovation Challenge
Challenge
Dedicated to founders and developers of FrenchTech companies based in France and overseas, we offer the STM32 platform to create your hardware on a platform adopted by thousands of customers and develop your project with strong collaboration with ST experts and your peers.
The challenge is open to the widest fields of applications, although there are some restrictions to automotive and space domains.

Please submit your startup idea, and if selected, join the STM32 Open Innovation Program and let's shape a clever future together!

In order to be considered the jury needs:

• A pitch on a sustainable project (a presentation or video)
• A business plan explaining your road map
• Staff and core competencies composing the team
• The URL to your website

The jury will evaluate: innovation, technicality and originality of the application, its features, embedded products, sustainability, potential market.

Applications are accepted until June 30, 2019.
The winning project will be announced and made public on September 10, 2019.

Important Note: by publishing your project on this Club, you accept that it is made public, promoted and published on different sites of ST: ST Community, st.com/partners etc -

→ if you disagree with this right to publicize please kindly let us know, we will flag your project accordingly

STM32 Open Innovation Program in brief: Prize worthing more than €50,000

• Free working space at selected ST sites in France for 2 years
• Special access and coaching from business and technical experts;
• Preferential commercial agreements on components for first orders
• Features and benefits of the STM32 ecosystem, which include the ST development platform -- Nucleo boards, Discovery kits, expansion & IoT boards that deliver everything to help startups launch prototypes;
• Access to the ST design community; which can provide feedback, discussion, and guidance on all manner of development, in addition to broad exposure to the wider STM32 Community;
• Certification for the ST Partner Program;
• Opportunities with ST partners, including guidance to industrialize the products designed for the challenge.
41 members
17 projects